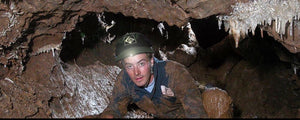 Imagine yourself in a dark cavernous region. You can feel the panic about to set in. It's a real topsy-turvy type situation. But then you remember that you have prepared, many times...perhaps even in the mirror for this very moment, plus, it suddenly occurs to you that you have your new Spelunking Cap on your head...whew...that was close!
Slowly you feel, in the depths of the darkness, for the light switch underneath the visor. Gently fumbling, finally you manage to push that button with a sincere sense of accomplishment...then sure as Kilimanjaro rises like Olympus above the Serengeti...there is light! 
Each and every crevice is illuminated as if to say; "Hurry boy, it's waiting there for you".
Don't go it alone down there my man. Slow down, relax, breathe. We've got you covered with the M-69 Spelunking Cap. Proudly worn by Cave Divers around the World!
*Each cap has an adjustable Velcro back closure with 3 LED lights built right into the bill. M-69 logo gloriously embroidered, front & center on this bad boy.