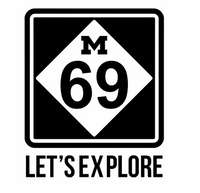 Let'S eXplore
The road ahead is wide open. She's a real beauty and yours for the taking. Are you ready to ride?
Testimonials
I remember the first time I got off on M-69 like it was yesterday. Wait that WAS yesterday.

Billy T
I've been waiting my whole life for a chance to go down this road. Bought the shirt, hat, moisture pads & koozies... Let's ride!

Geoff P
Took a wrong turn on M-69. Ended up getting off multiple times. I will definitely be hittin' that road again and again and again.

Mike L.
I was Southbound on 69 when a giant log crossed my path. I did what I had to do and safely arrived at my destination...twice.

Pat
I wined, I dined, I 69'd.

C-Bass
M-69 turned my frown upside down.

Debbie D.
HUGE discovery last weekend! The North Pole is actually on M-69. My whole life has been a lie. Wake up people!!

Buddy