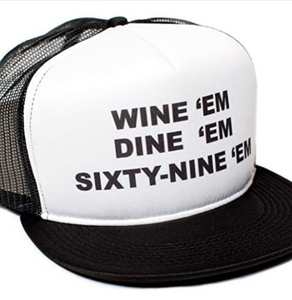 Unleash your inner beast with this classic beauty. Whether you're rockin' business in the front & party in the back, a sweet classic rat-tail, frosted tips, chonmage, pompadour, feathers, jheri curl, tonsure, caesar, fauxhawk, high & tight, butch, wings, jewfro, bowl cut, dreads, comb-over, quiff, curtains, bangs, pony tail or even if you're follicly challenged, dudes (and even the ladies) look incredibly irresistible in this hat. 
But listen, don't even try it with a man bun...just DON'T!
Every head will turn when you walk into the room wearing this baby. It's as if you're walking in slow motion, Whitesnake playing on the jukebox, a gentle breeze blowing through your flannel as you overly exaggerate while mouthing the words "Wine 'em, Dine 'em, Sixty-nine 'em".
Here I go again on my own. Going down the only road I've ever known...
Cool mesh. Adjustable snap back.